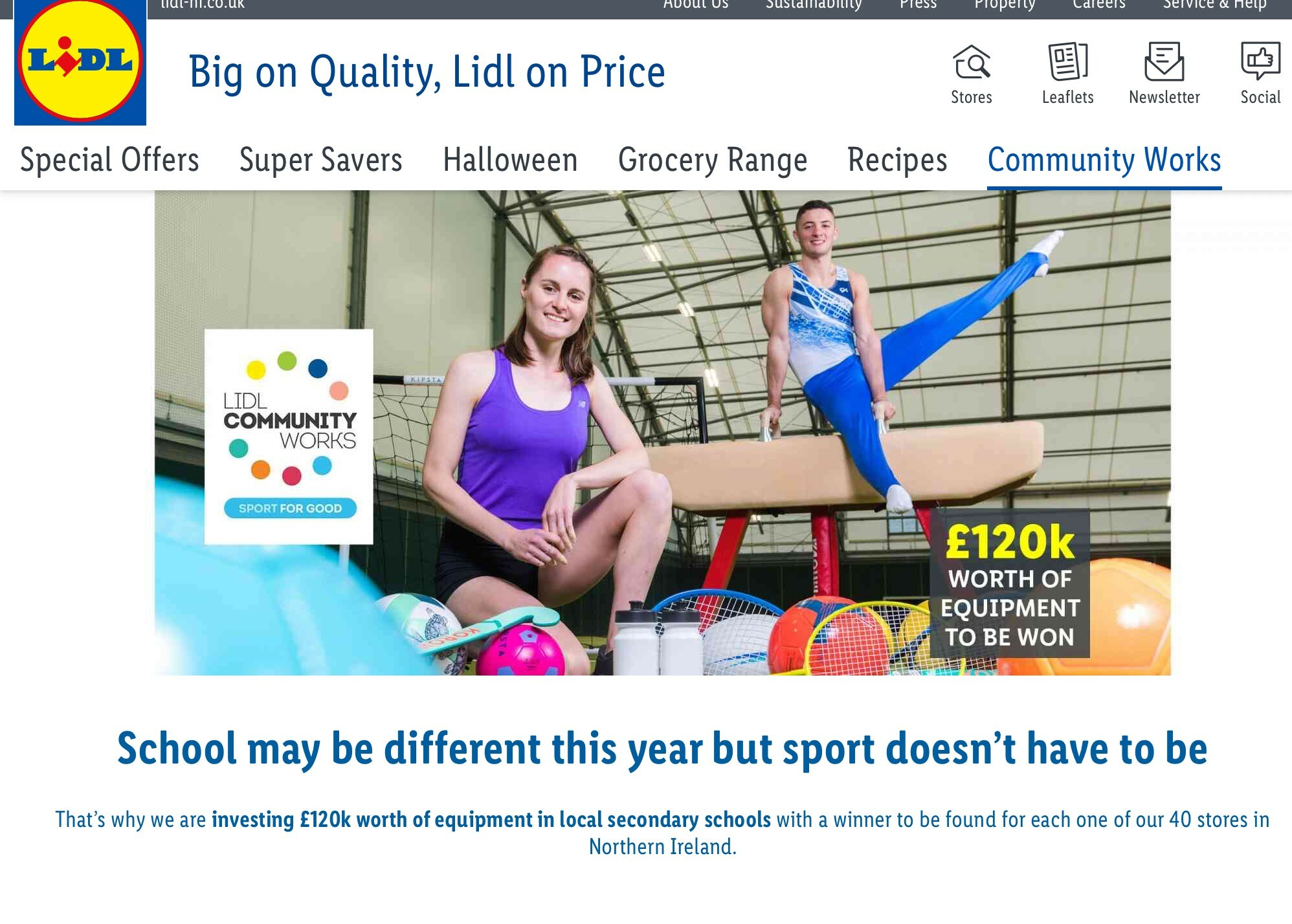 Secondary schools across Northern Ireland set to score £120,000 worth of new sports equipment
Tuesday 3rd November 2020: A host of sporting legends including Paralympic swimmer Bethany Firth MBE, Commonwealth pommel horse champion Rhys McClenaghan, national record-holding runner Ciara Mageean and women's field hockey international Katie Mullan, have joined forces to launch this year's Sport for Good campaign, in partnership with Lidl Northern Ireland.
Launched in 2019, the Sport for Good programme is designed to encourage and support young people to make the most of the physical and mental benefits of sport participation.
With 1 in 4 young people in Northern Ireland struggling with their mental health*, participation in sports provides young people with a boost to social skills, self-esteem and body confidence as well as a life-long support system of friends and mentors.
School may be different this year, but sport doesn't have to be, which is why this year's Sport for Good programme aims to put participation in sport top of the class with secondary school pupils.
Representing an investment of £120,000 by Lidl Northern Ireland, this year forty secondary schools across Northern Ireland will be selected to receive £3,000 worth of vouchers to secure essential sporting equipment for their school, helping power the next generation of sporting heroes and encouraging more young people into sport.
To enter, shoppers are encouraged to visit their local Lidl Northern Ireland store and spend £20 or more to receive a qualifying Lidl receipt containing a 10-digit code which they will need to submit via an online entry form at lidl-ni.co.uk/lidl-community-works. The competition is open now until Friday 18th December.
Speaking at the launch of the 2020 Sport for Good campaign, four-time Paralympic gold medallist and programme ambassador Bethany Firth MBE said:
"Taking part in sports has an incredibly positive impact on the lives of young people and plays a vital role in supporting physical and mental health. As a Paralympian, I am passionate about championing the life-changing impact that sport can have, particularly on young people who are disadvantaged, and so I'm delighted to be an ambassador for Lidl Northern Ireland's Sport for Good programme for a second year.
Throughout my career I've been lucky enough to have the support of friends, family, mentors, coaches and schoolteachers which has really driven me towards my sporting goals and helped me on my journey. It's important that young people are given access to sport and are encouraged into it from a young age.
That's why I'm proud to partner with Lidl Northern Ireland who are actively reaching into the heart of communities, investing in young people and helping them strive for their sporting goals, or simply encouraging them to give it a go for improved health and wellbeing."
The Sport for Good initiative forms part of Lidl Northern Ireland's longstanding 'Community Works' programme which first launched in 2014. Committed to providing local support, Lidl Community Works has engaged with over 750 community groups to date and raised more than £420,000 for local charities and community groups, including charity partner NSPCC Northern Ireland.
Conor Boyle, Regional Director for Lidl Northern Ireland said:
"At Lidl Northern Ireland we are committed to supporting our local communities as part of our Lidl Community Works programme and we do this in a variety of ways. A key focus is our Sport for Good campaign which we launched in 2019 to support local sporting clubs right across the region.
From boxing to gymnastics, tennis, volleyball and even cheerleading clubs, Lidl Northern Ireland provided essential new equipment for young people involved in a multitude of different sporting disciplines, to promote and encourage sport for young people and to communicate the significant role it plays in physical and mental health and wellbeing.
This year we're delighted to open up the programme to secondary schools right across Northern Ireland. We're also thrilled to welcome four sporting legends as programme ambassadors to inspire more young people into sport and to motivate those already engaged in sport to achieve their goals.
Given the challenges faced this year by schools and their pupils, it's more important than ever to look after the mental and physical wellbeing of our young people in Northern Ireland and I hope that this initiative will help to support local schools in doing so."
The Sport for Good 2020 programme is the latest initiative by Lidl Northern Ireland to support communities across Northern Ireland. In October, the retailer announced a second extension to its charity partnership with NSPCC Northern Ireland to 2022 and committed to an increased funding target of £600,000 in this time. Initially established in 2017, the partnership has delivered more than £400,000 worth of funding to date in support of the vital services that NSPCC Northern Ireland delivers across the region.
For more information please visit lidl-ni.co.uk/lidl-community-works